604105.M.4.5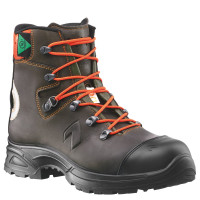 Airpower XR200 (CA)
Waterproof

Light, agile, and comfortable; but not as durable as hoped
These boots are light and comfortable. Be prepared to work them in a little when you first get them but once they soften they are weightless on the feet. I work as a wildland firefighter and found these amicable when moving numerous kms every day through the bush. I ended up putting a Superfeet sole into these boots as I need the extra support and found the original soles a bit flat. Once those were upgraded, a hiking dream. These boots had good waterproofing but given that typically I am in water past my knees what was more impressive was their ability to stay breathable and dry quickly afterwards. It was nice having the composite toe for some protection and found it not too bulky. The grip on the sole was adequate and aggressive enough for the variety of conditions seen, although it seems softer than Vibram soles and seemingly less heat resistant. Surprisingly, boots even warm when I was wearing them in some colder snowy conditions which was a pleasant surprise as well.
I did really enjoy these boots except I found them to feel odd over the bridge of my foot with an odd amount of excess material in the tongue which became uncomfortable. Maybe it was because I got a wide instead of medium fit in the foot, I am not for sure. The laces broke fairly quickly after purchasing, which was a bummer as they were great feeling laces. In September I found them to be leaking through the sole where the leather has separated from the boot on both feet. I have submitted a warranty claim to see if this is manufacturer defect. Still this is disappointing given I owned less than a year and cost over 400 dollars. Durability is important when marketed as a forestry boot and this didn't quite meet my expectations. Given work requires a safety toe and class 2 certification, going forward may try the Protector Prime.

Read more
Durability Issues
I purchased a pair of these in February 2016. I pointed out right away a couple holes in the soul and some thinning along the boot where the Soul Meets. They were deemed normal however now the sole has come apart from the boot. As well as ripping into the soul. Overall I was happy with the boot except for this issue. Not sure if I'll be buying another pair or not in the future.
Read more
Light. Strong and smooth walking action
This boot is by far on par with every expedition ice climbing mountaineering boot I have ever owned. Just having The protection I need for work.
Love them.
Read more